"The Good Fight"
$30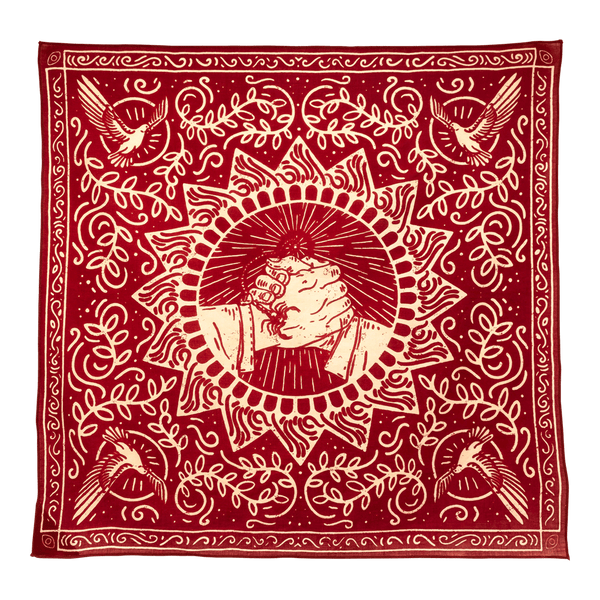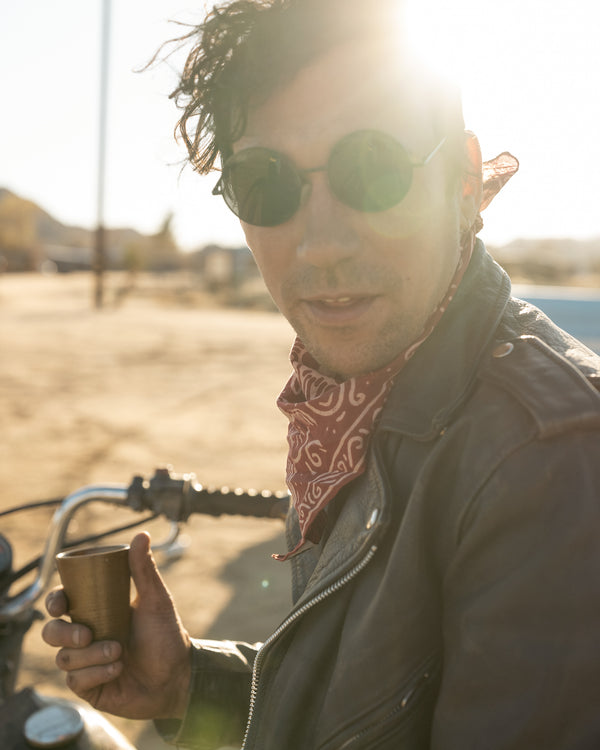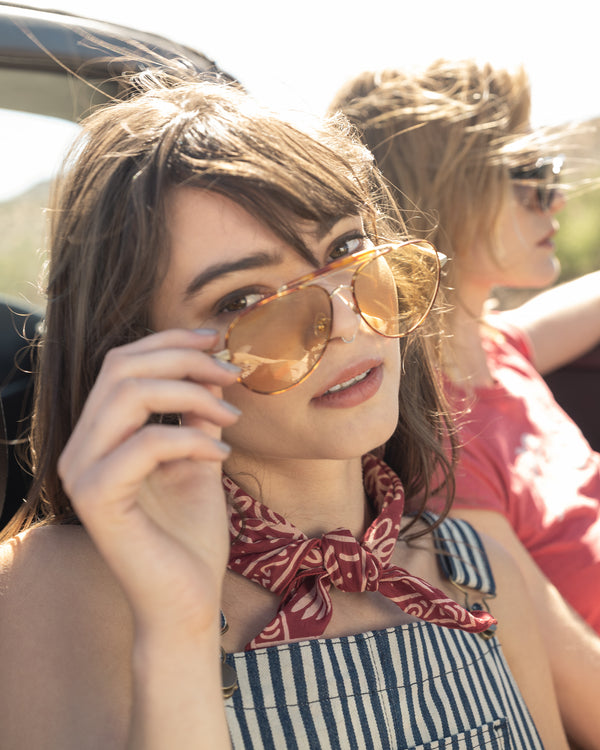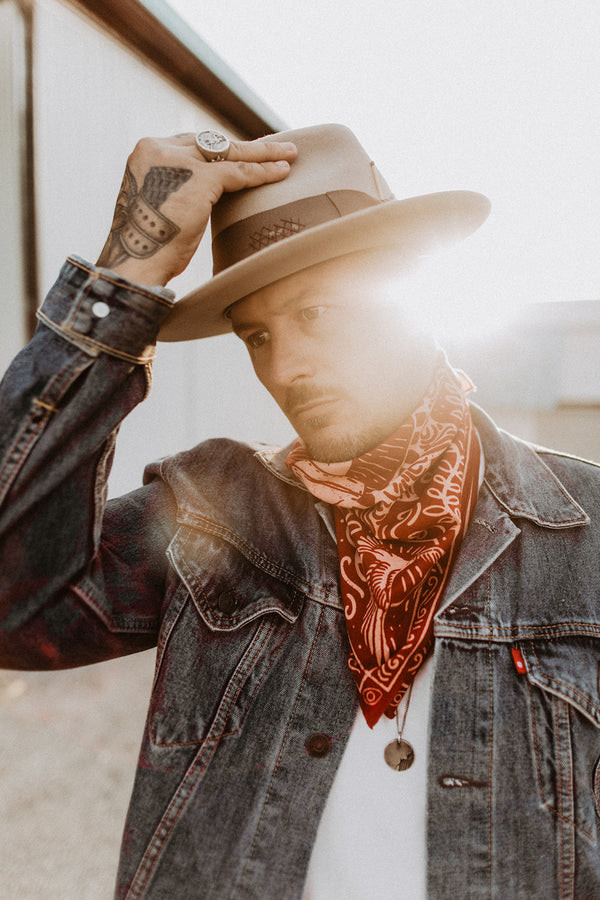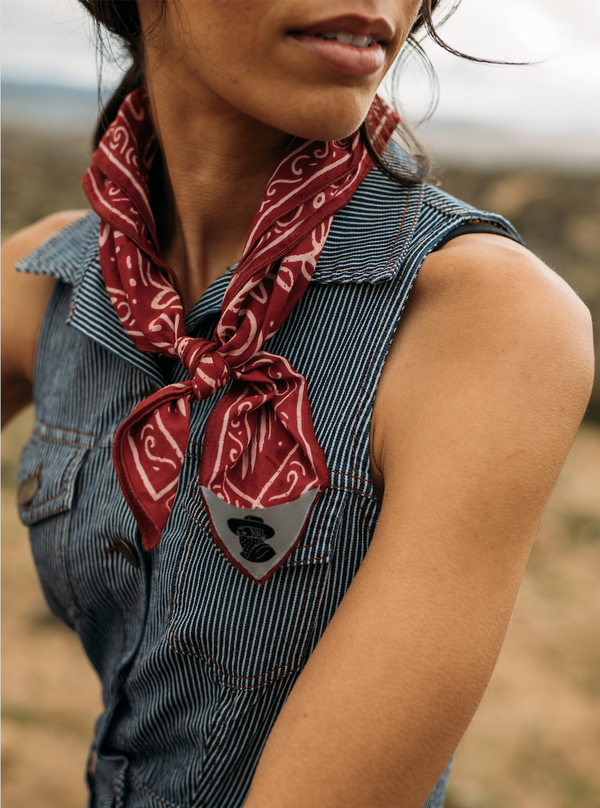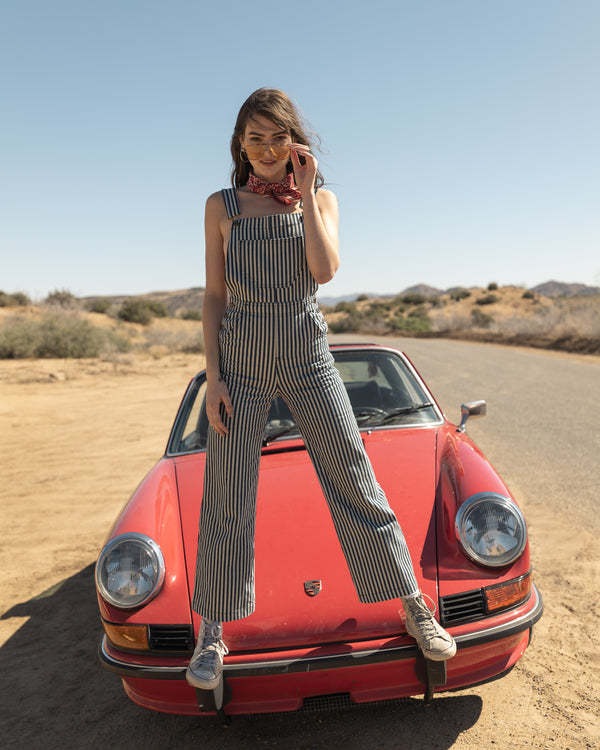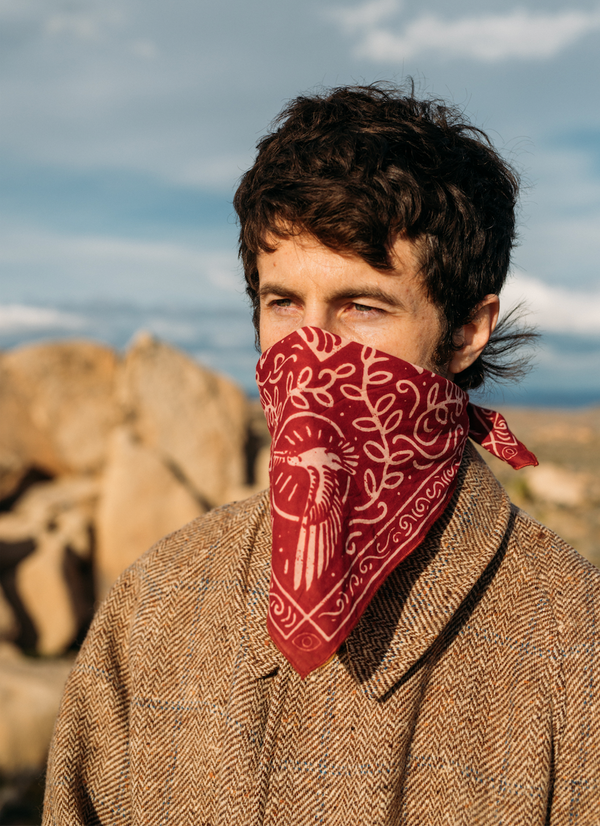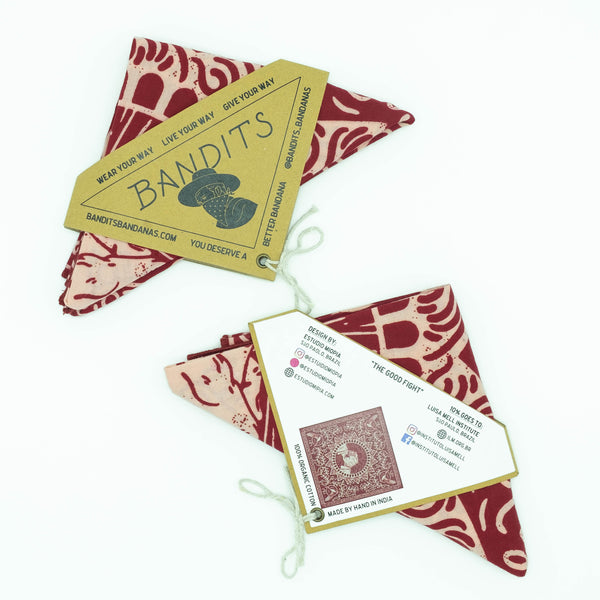 organic cotton

100% Organic Cotton, GOTS Certified and sustainably sourced in India from Chetna Organic, pre-washed for an extra soft feel

made by hand

Printed, Cut, Sewn, and Packaged by hand at a Fair Trade Certified facility in Kolkata, West Bengal, India. Please note that there may be slight sizing and color variations from product to product

21" x 21"

Standard 21 x 21 inch bandana. Machine wash cold with like colors, line or tumble dry, warm iron, do not bleach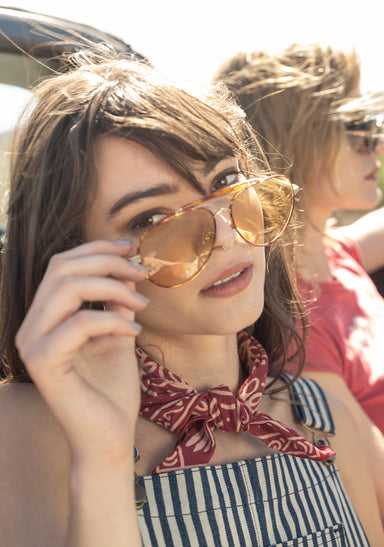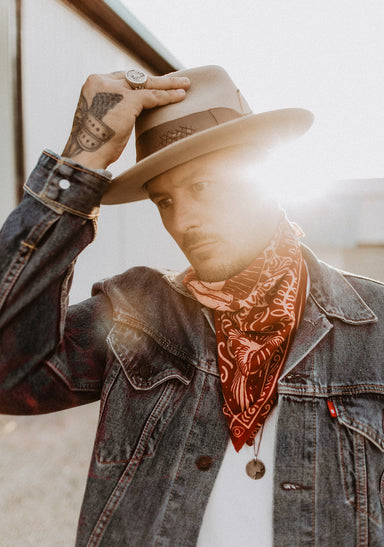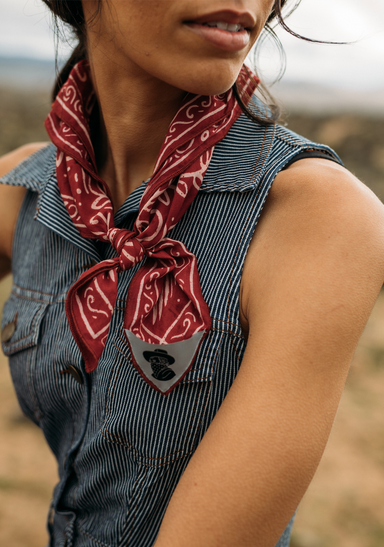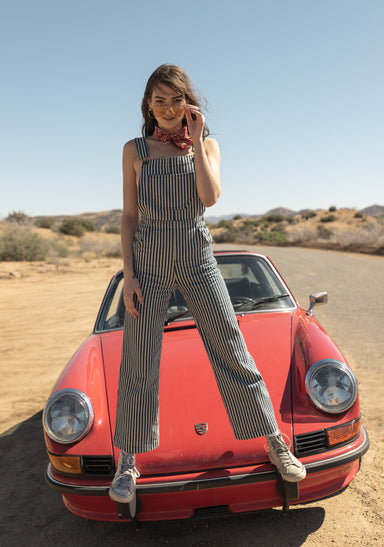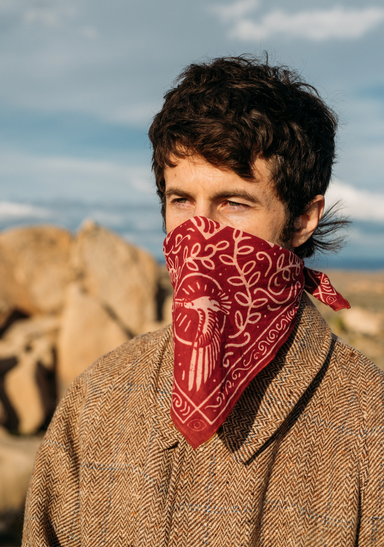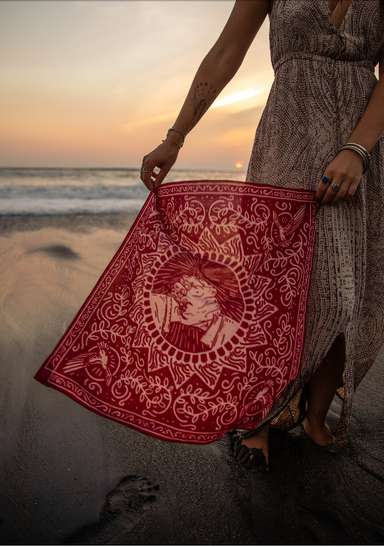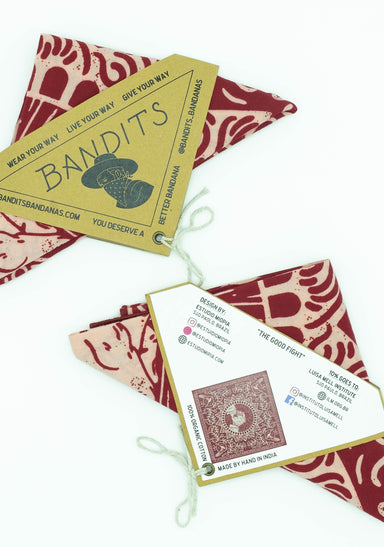 São Paulo, Brazil
Estudio Miopia
estudiomiopia.com/
Husband-and-wife team Gustavo (Gus) Magalhães and Carol Maia make up Estudio Miopia, a design studio based in São José do Campos, São Paulo, Brazil. With strong roots in the independent music scene, and heavily influenced by the underground art and tattoo culture of the region, their work has been featured on concert posters, craft beer cans, skateboard decks, and even on a pizza box. Their pieces are inspired by vintage textures, old matchbooks, zines, and the art of French illustrator and cartoonist Moebius (aka Jean Giraud). Their biggest inspiration, however, is the Brazilian crew BICICLETA SEM FREIO, who both Carol and Gus cite as the reason they decided to open a design studio. Since launching in 2015, the couple has always placed a high priority on the manual processes involved in the pieces they create (hand-drawn sketches, brush work, tracing, etc.). This dedication to craft, combined with their myriad of unqure influences, imbues their work with an original, organic, and edgy style all its own.
Luisa Mell institute (São Paulo, Brazil)
The Luisa Mell Institute (ILM in Portuguese) is, above all, a group of dedicated volunteers who are passionate about animals and their well-being. The main mission of ILM is to rescue wounded, at-risk, or abused animals in their community.

ILM maintains a shelter with approximately 300 dogs and cats at any given time, most of whom are rescued from the streets. The shelter provides a warm bed, food, and medical care, with the ultimate objective of ensuring adoptions to good homes for the rescued animals.
ilm.org.br/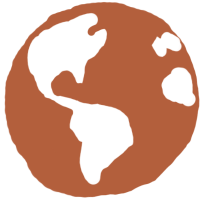 $200,000
RAISED FOR GLOBAL CHARITIES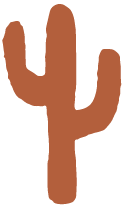 79
CHARITY ORGANIZATIONS SUPPORTED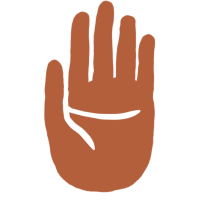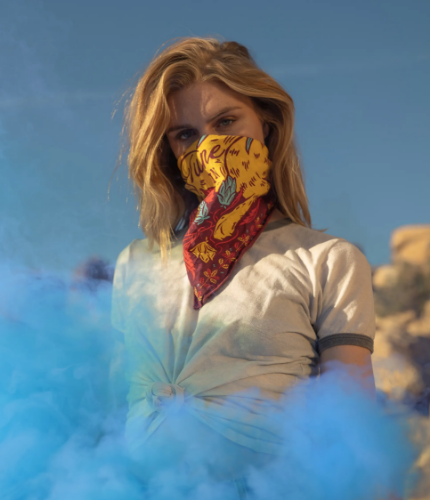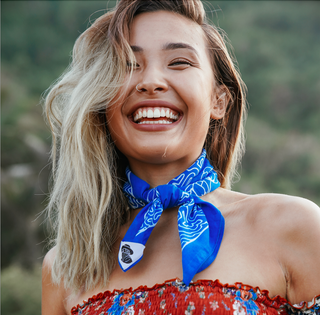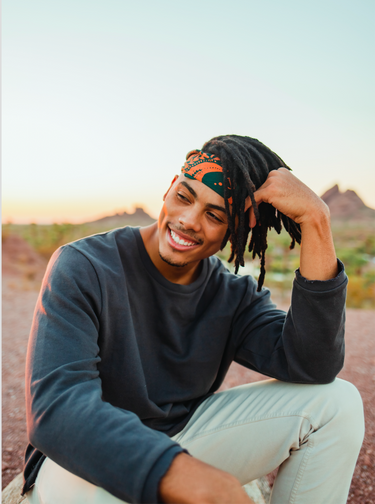 Style Ideas, Guides, and Inspiration