on A Mission to Build a BETTER Bandana
It all began in Bali, on a sweltering summer day in 2017. I was Riding on the back of a motorbike (More of a scooter, really), traversing the island in search of incredible places to shoot photos. At one stop, As I went to adjust the old bandana I was wearing (and sweating through) for the third day in a row… Bandits was born.
I loved the way that bandana made me feel. I loved the confidence, the freedom, and the outlaw attitude my bandana personified. I loved that bandana, but as I reached up to re-tie it around my face for the ride, the fraying fabric (and the smell) told me it was time for a new one.
What I didn't love was when I started looking around for bandanas to buy and realized how BORING they all were! Low quality cotton, played-out patterns, and way too much paisley.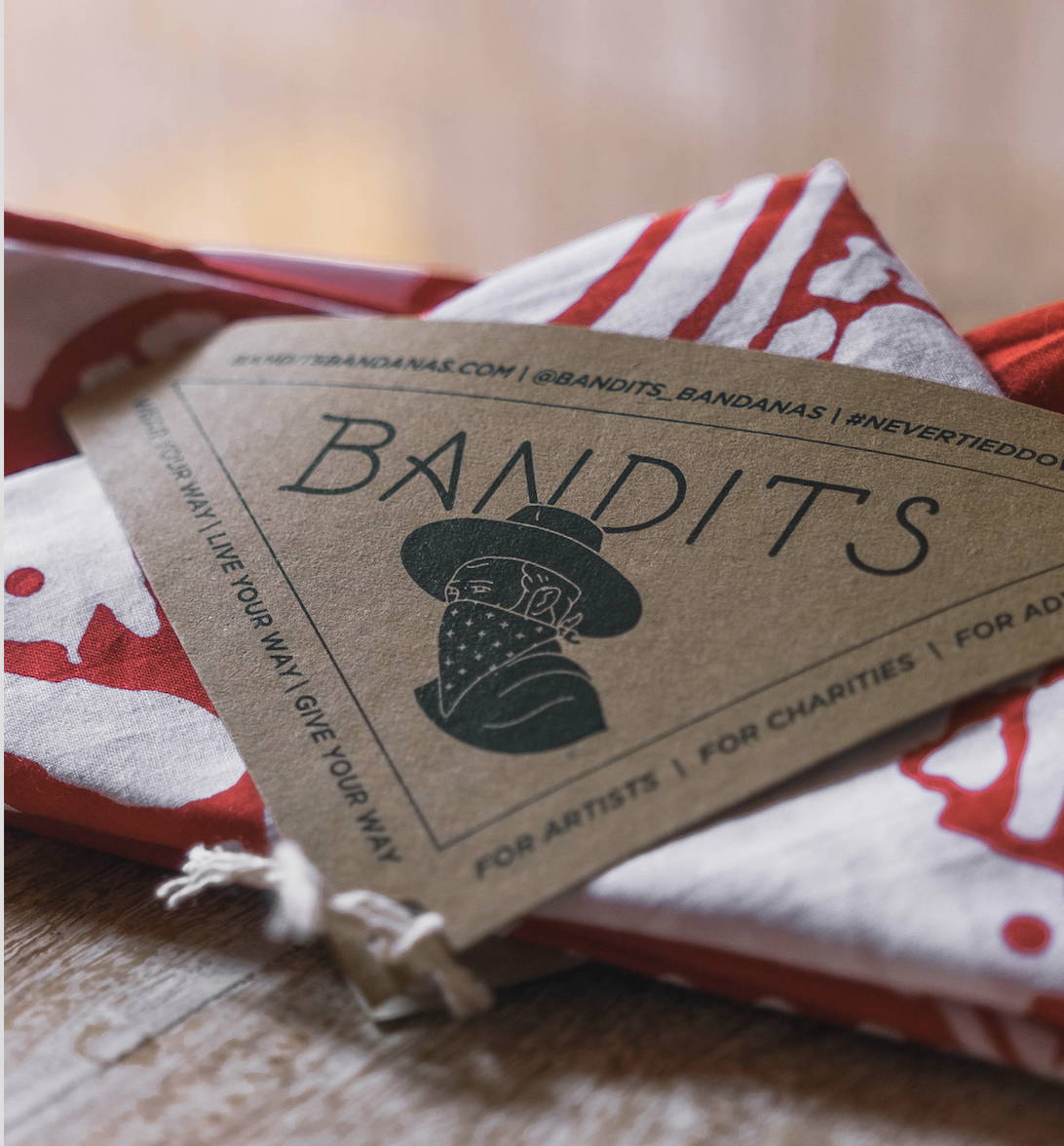 Let's face it - there's a certain "swag" that comes with rocking a bandana. From the start, I knew that BANDITS needed to embody thAT sense of originality, individuality, and self-determination that made me fall in love with bandanas in the first place.
In creating BANDITS, I wanted to build a Bandana that could be a platform to promote and discover artists; a bandana that could be a catalyst for positive change around the world; A comfortable, sustainable, ethical bandana perfect for any adventure; a bandana for creators, originals, explorers, Outlaws, and anyone who aspires to be.
And so BANDITS began, on A MISSION to build A BETTER Bandana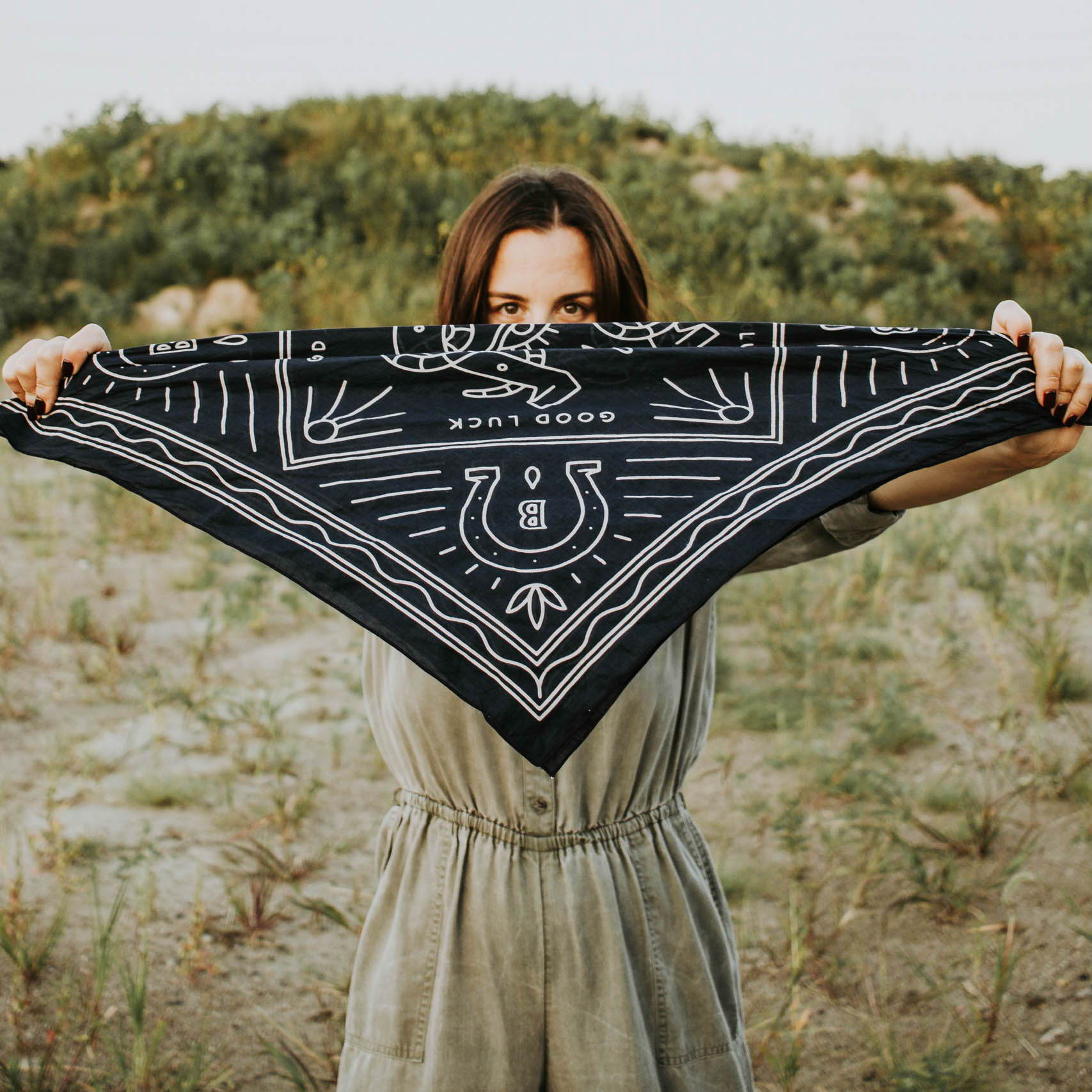 WhaT Makes BANDITS better?
OriginaLITY
Our bandanas feature original, Never-before-seen designs created by artists from around the world. We work directly with each artist TO commission designs exclusively for BANDITS.
PLus - BANDITS are built big (between 21'' to 22'' per side) so you can FLY, fold, style, and tie up your bandana in ANY way you want. THERE'S NO WRONG WAY TO WEAR ONE!
CHARITY
Our bandanas don't just look Great, they do good across the globe! For every bandana we sell, BANDITS DONATES 10% of the sales proceeds TO different charities chosen by Each design's artist.
Not only does this give you the chance to choose your favorite cause to support, it's also a great way to learn about the work being done by amazing charitable organizations around the world!
CONSCIOUS QUALITY
OUR BANDANAS ARE MADE FROM ULTRA-SOFT, 100% ORGANIC COTTON. ALL OF OUR COTTON IS GOTS CERTIFIED AND SUSTAINABLY SOURCED FROM CHETNA ORGANIC - AN ORGANIZATION THAT SUPPORTS AND IMPROVES THE LIVELIHOOD OF SMALL FARMERS IN INDIA
EVERY BANDITS BANDANA IS CUT, PRINTED, SEWN, AND PACKAGED BY HAND AT OUR FAIR TRADE CERTIFIED PARTNER FACILITY IN INDIA. BANDITS HAS PERSONALLY VISITED AND INSPECTED THE FACILITY TO ENSURE ETHICAL WORKING CONDITIONS FOR EVERY PERSON INVOLVED IN THE MANUFACTURING OF OUR BANDANAS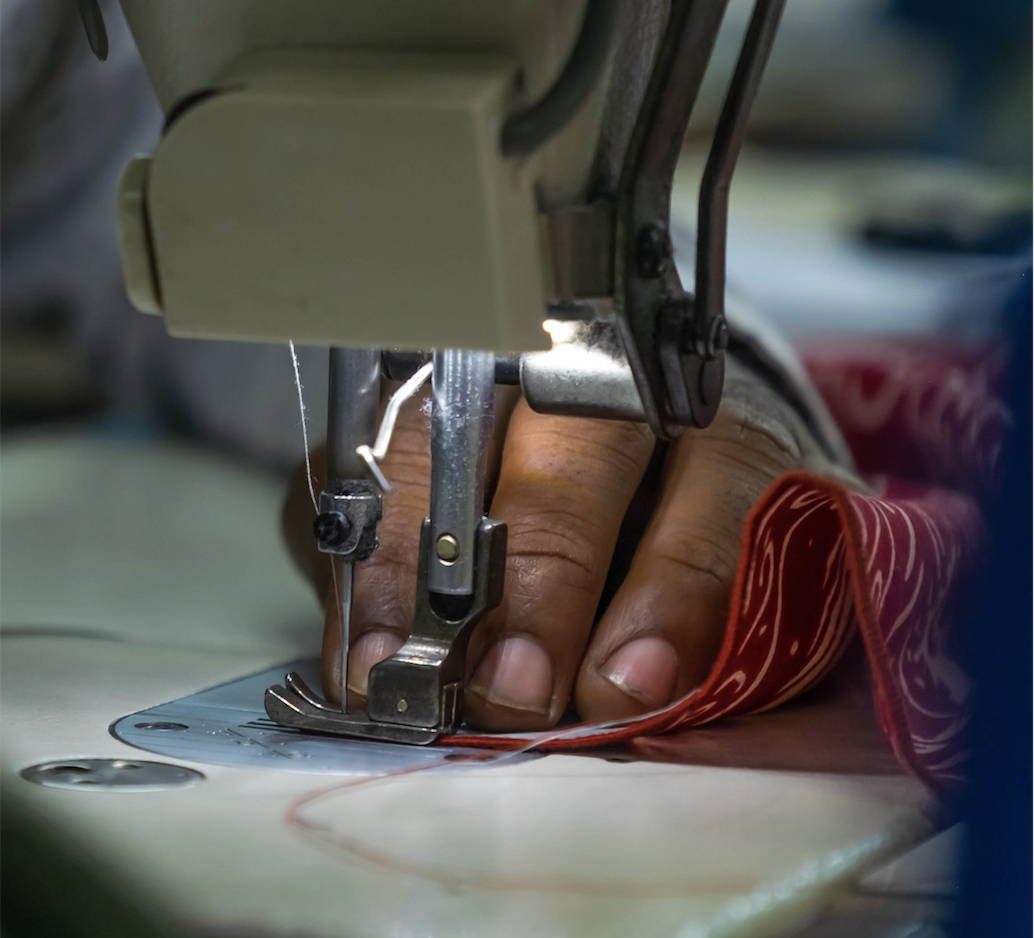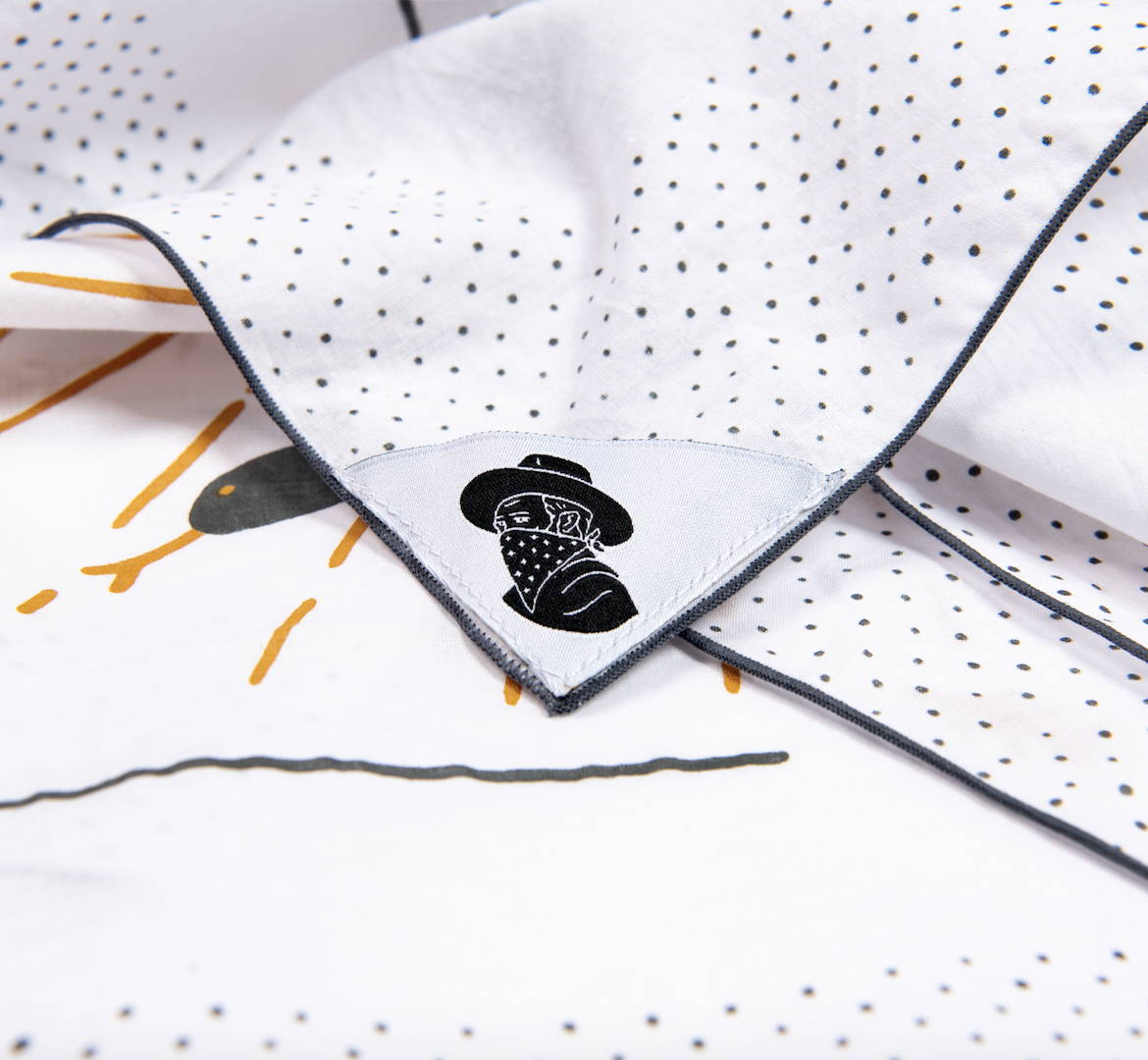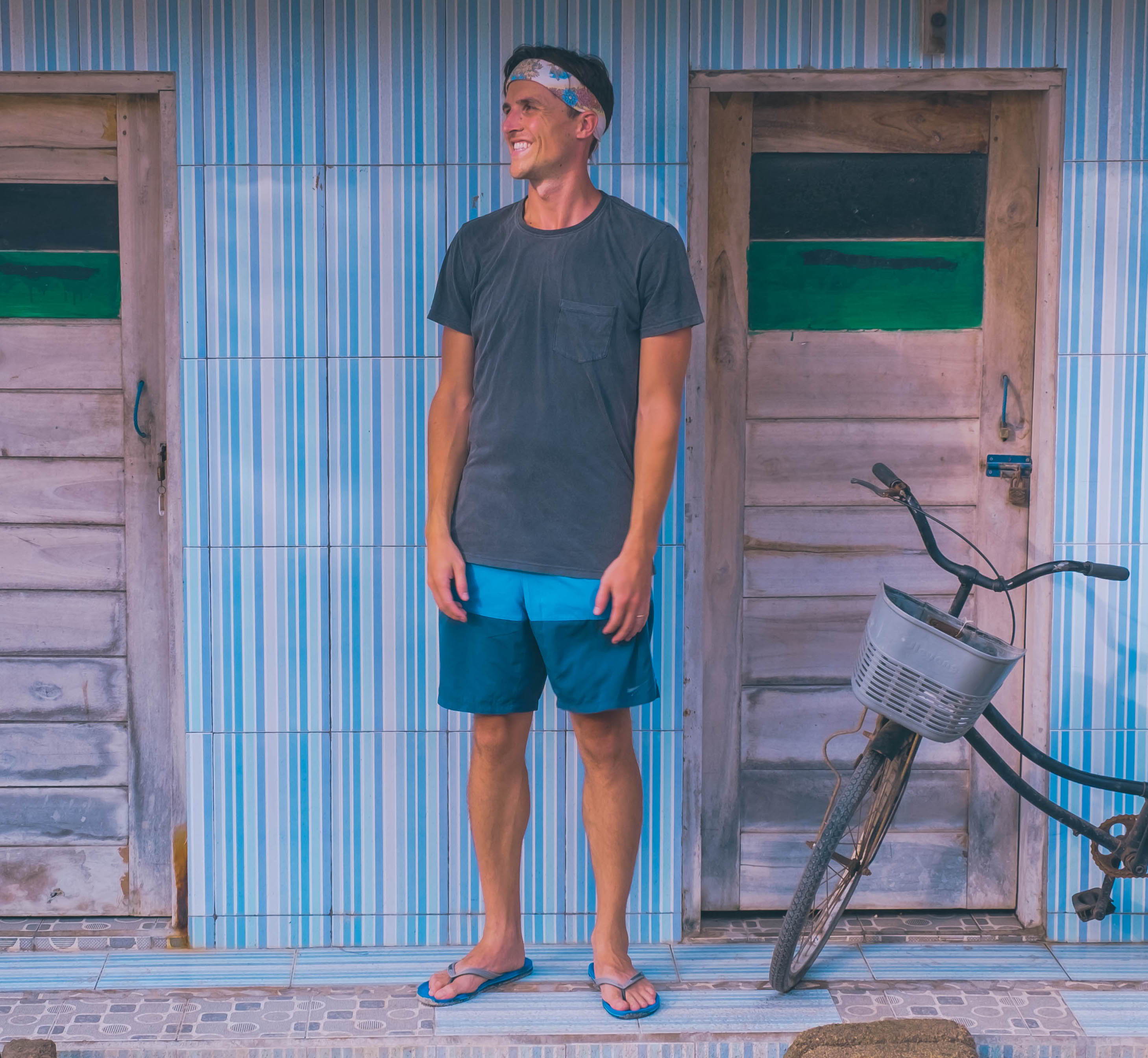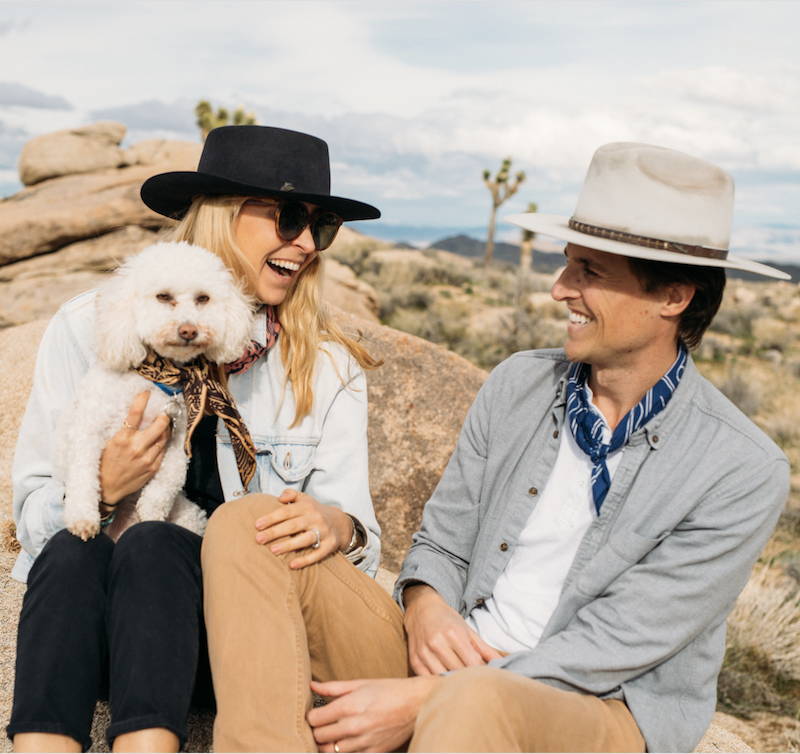 Connor Humphreys is the Founder of BANDITS and a self-proclaimed "Bandana Enthusiast."
During a 10-year career in finance in Los Angeles, CA, he always admired the creativity and independence of the artists that he met in his daily life and travels. Not much of an artist himself, he was consistently amazed by the way that they could create such eye-catching expressions of their thoughts, feelings, and stories.
In early 2017, burnt out on corporate life and seeking a taste of that independence he always admired, he decided to leave the finance world and move to Bali with his wife Nicole. They sold most of their belongings, dropped their dog off with Connor's parents, and set out on an adventure half way around the world.
Connor arrived on the island with no plan other than to nerd out on his camera, ride around the island taking pictures, and open himself up to the possibility of living a completely different lifestyle. On the back of a motorbike winding through the beautiful Balinese landscape, the idea for BANDITS struck.


He had finally found the perfect outlet to create positive change and express his appreciation for the artists that had always inspired him.
By providing artists a platform to monetize their work, promote their portfolios, and raise awareness for charitable causes they are passionate about, Connor aims to grow BANDITS into a global brand supporting people and organizations making the world a better, more beautiful place!