"Stay Steady" (LIl' BANDITS)
$20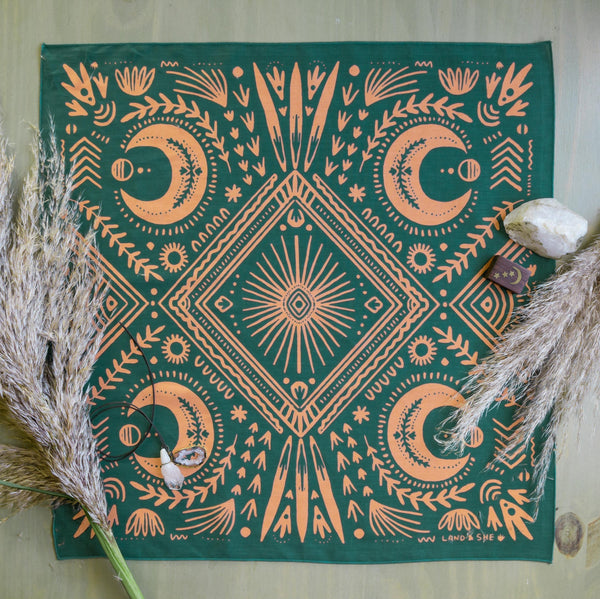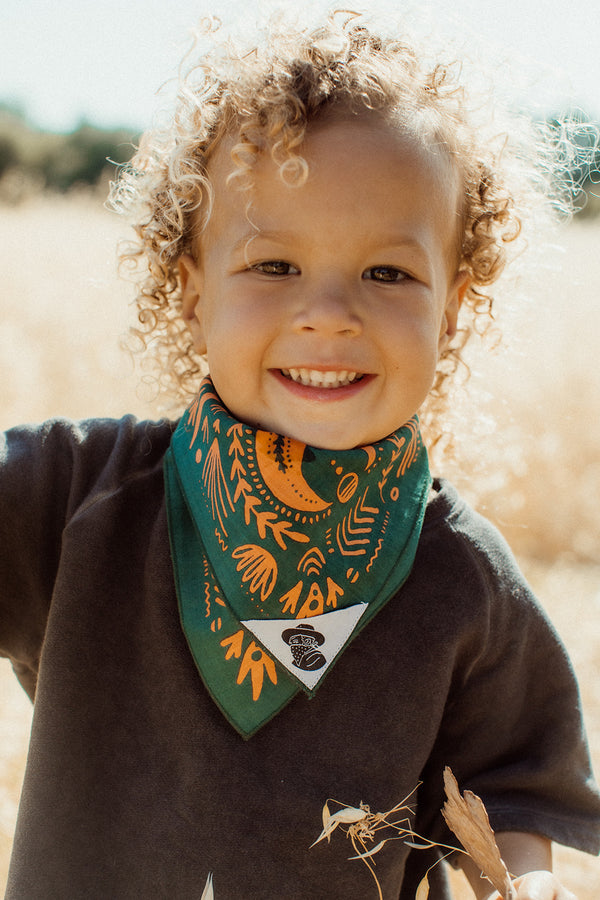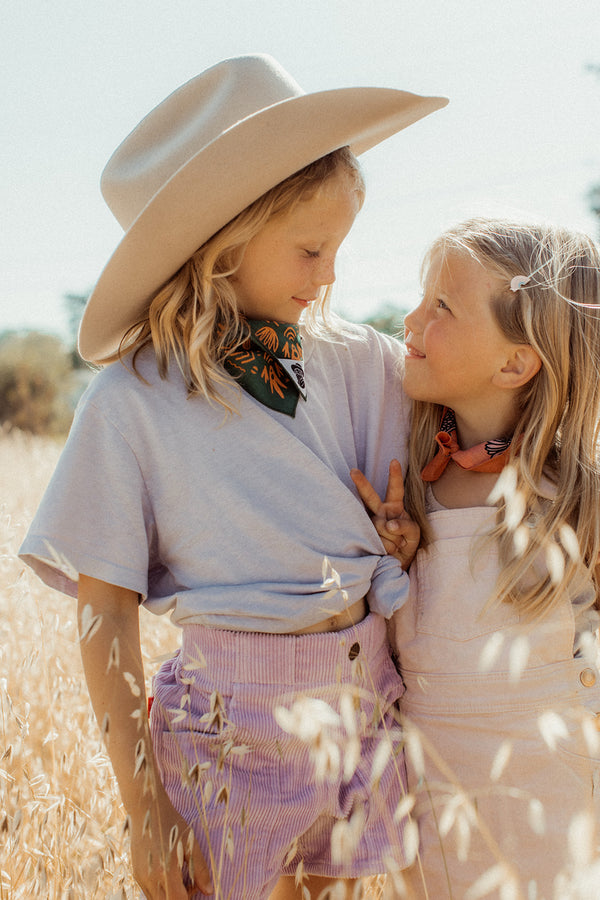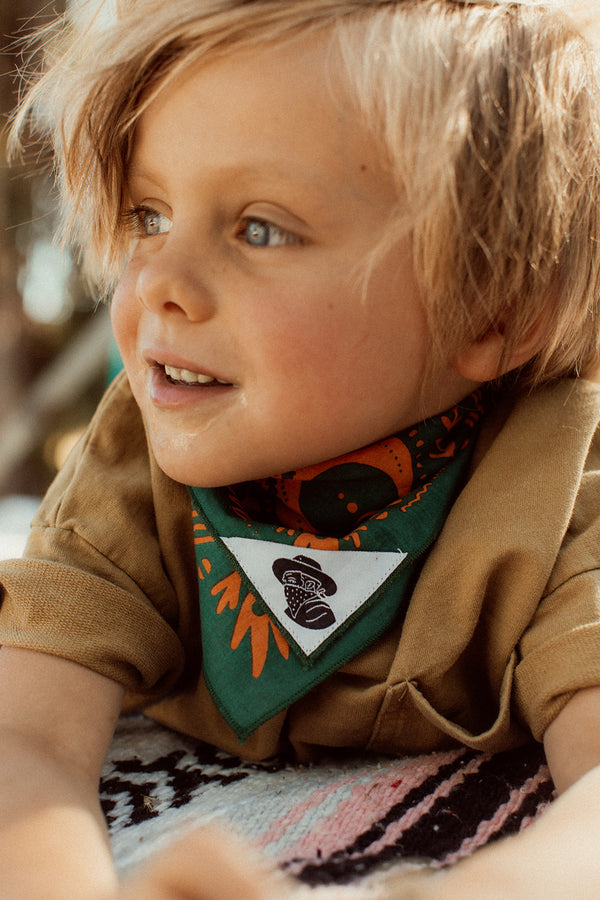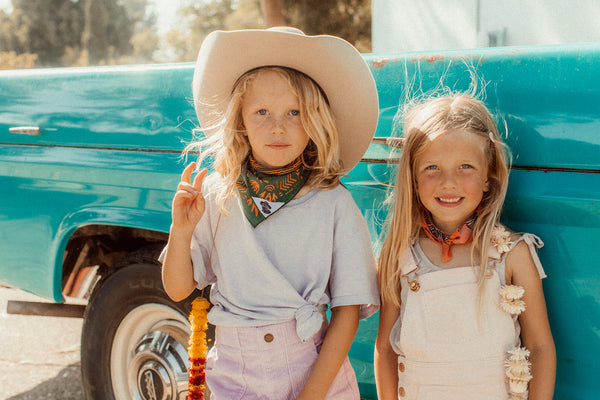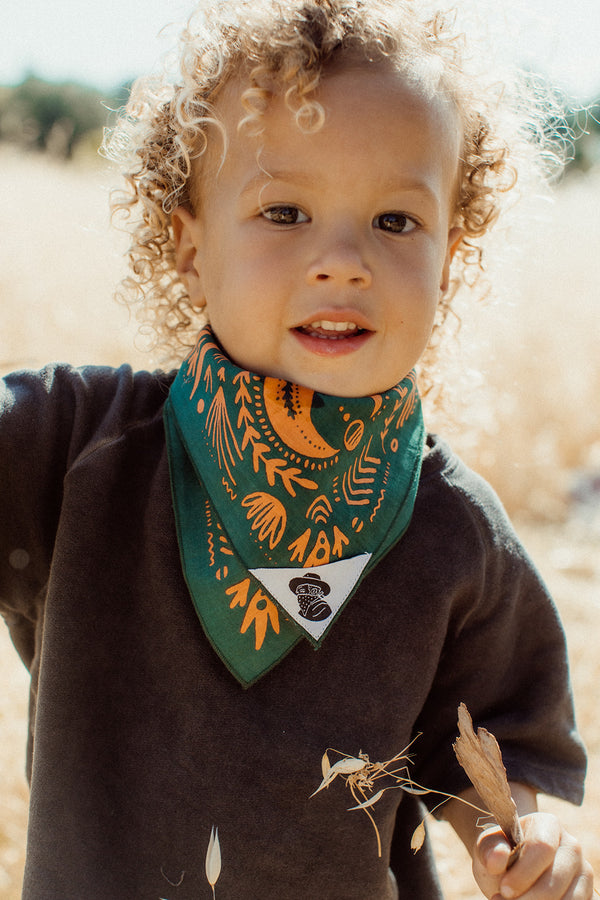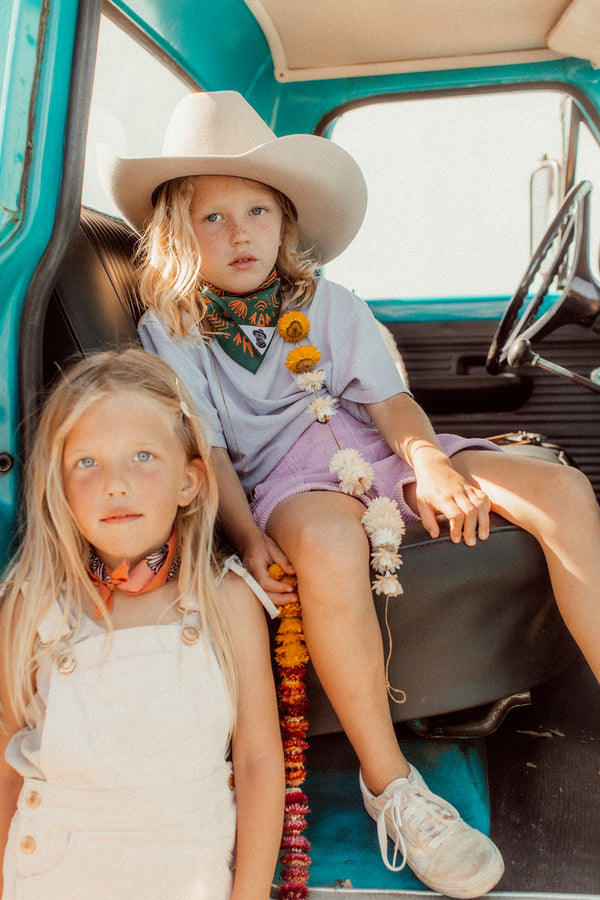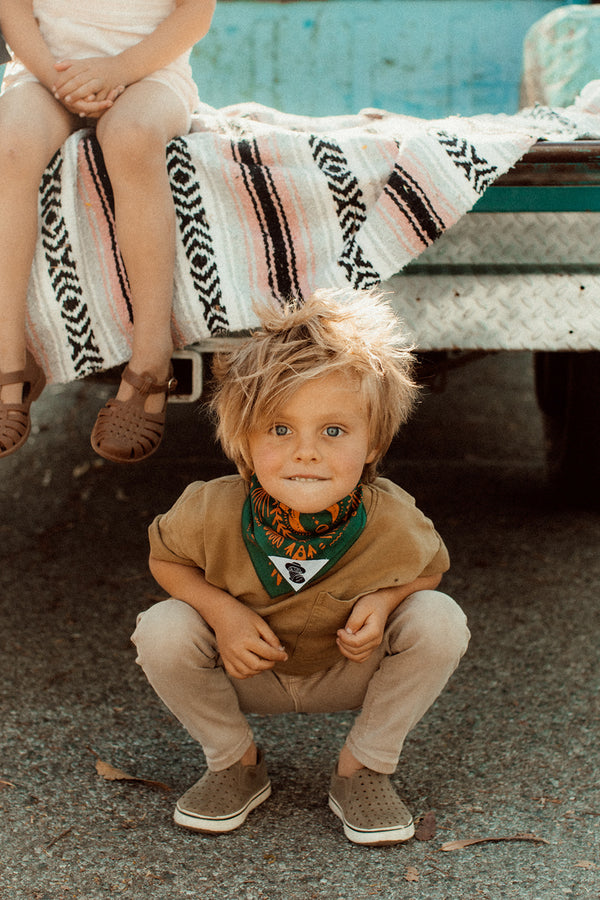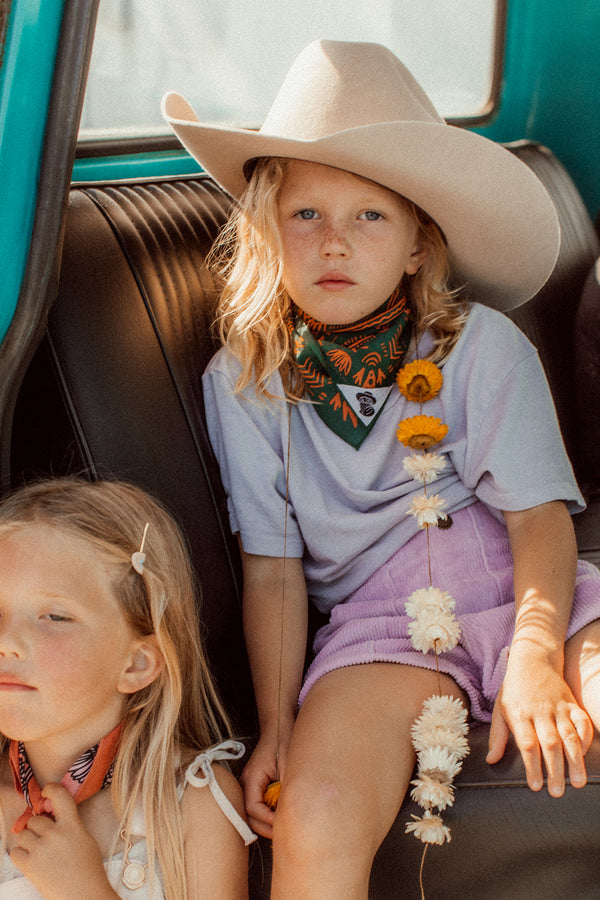 Organic Cotton

100% Organic Cotton, GOTS Certified and sustainably sourced in India from Chetna Organic, pre-washed for an extra soft feel

made by hand

Printed, Cut, Sewn, and Packaged by hand at a Fair Trade Certified facility in Kolkata, West Bengal, India. Please note that there may be slight sizing and color variations from product to product

14'' x 14''

Smaller-sized 14 x 14 inch bandana. Can be worn on babies 6 months old - 6 years old. Machine wash cold with like colors, line or tumble dry, warm iron, do not bleach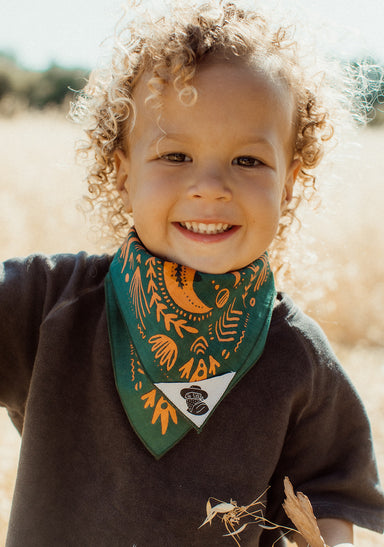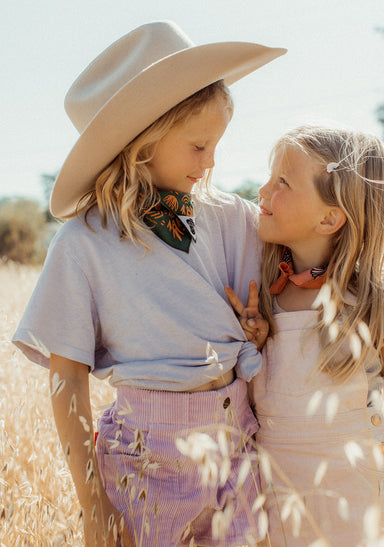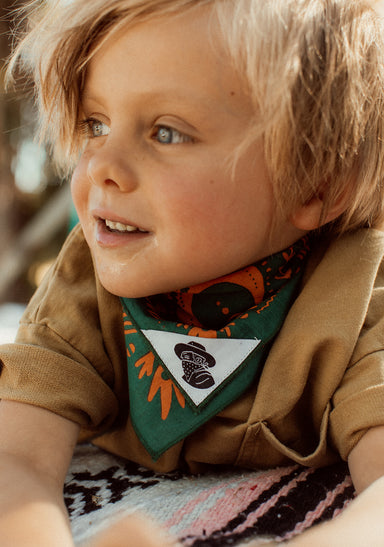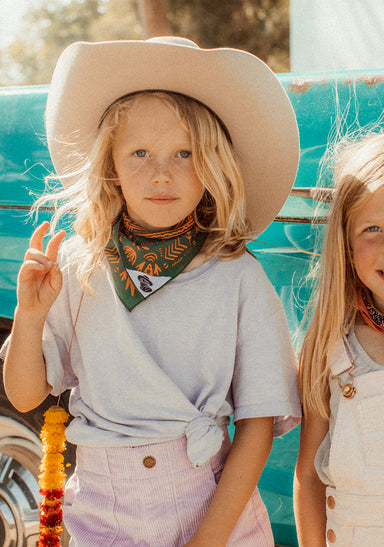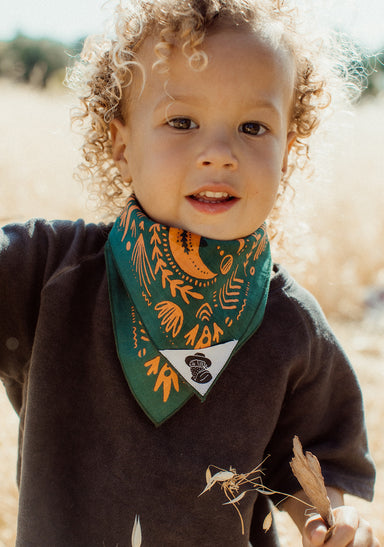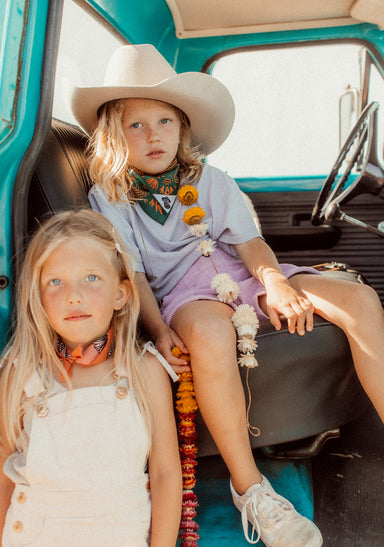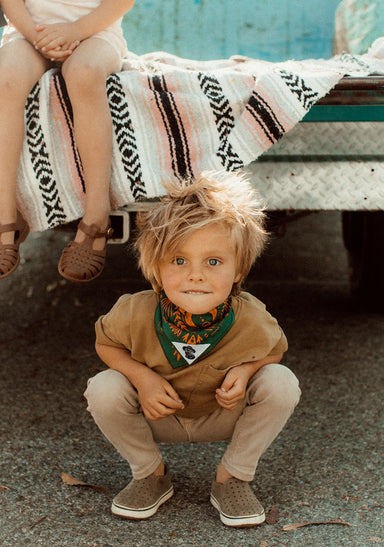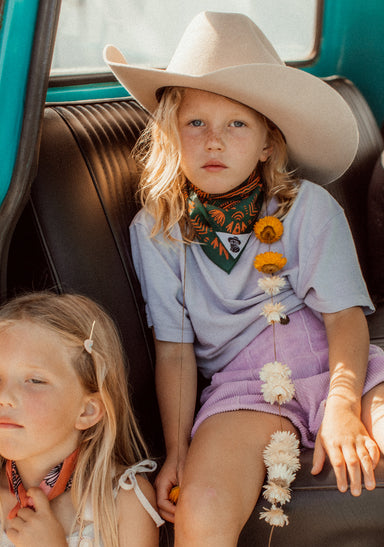 Philadelphia, PA
Emily Kelley aka Land and She Studio
www.landandshe.com/
Emily Kelley is an illustrator, block printer, artist, and founder of Land and She Studio based in Philadelphia, PA. Land and She sells prints and goods featuring Emily's work and was founded on the philosophy that handmade work, while it may take longer to produce, ultimately creates a stronger connection and value from the artist's hands to the customer's home. Emily's work is rooted in, as she explains, "The everyday around me." Whether it be a lonely dock at sunset, a butterfly in the park, or a majestic canyon at a National Park, Emily's incredibly tactile work feels decidedly of the Earth in any setting. In creating her hand-made masterpieces, Emily is driven by "finding the tiniest of inspirations in the patters of rock formations, or feeling small amongst a vast horizon... These are the things that keep me curious and looking for more." We instantly connected with Emily's uniquely tactile work since we were first introduced to it late in 2019. After being blown away by the amazing "Red Tail Hawk" bandana she created for our BANDITS x REI exclusive collection, we knew we had to work her again.
World Central Kitchen (WCK)
Founded in 2010 by world-renowned chef José Andrés, World Central Kitchen (WCK) is a non-profit organization that uses the power of food to heal communities and strengthen economies in times of crisis and beyond. WCK has served more than 40 million fresh meals to people impacted by natural disasters and other crises around the world in countries including The Bahamas, Indonesia, Lebanon, Mozambique, Venezuela, and the United States.

During the COVID-19 pandemic, WCK activated thousands of restaurants and kitchens to feed marginalized and vulnerable communities and our brave medical professionals on the front lines. Their Restaurants For The People program mobilized quickly to address the growing hunger and economic crises on two fronts by paying local restaurants to cook fresh meals for their neighbors in need—at the same time getting food to hungry people and keeping restaurants and their teams open and working.

For the millions of Americans who have lost work during the pandemic, particularly those in the hard hit hospitality industry, WCK's work is essential in addressing the very real food insecurity they're facing. BANDITS is proud to help Emily to support this incredible organization for 2020 and beyond!
wck.org/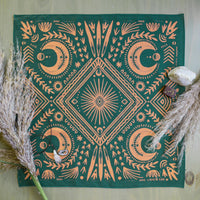 Stay Steady (LIl' BANDITS) - $20