"Trapped In"
$30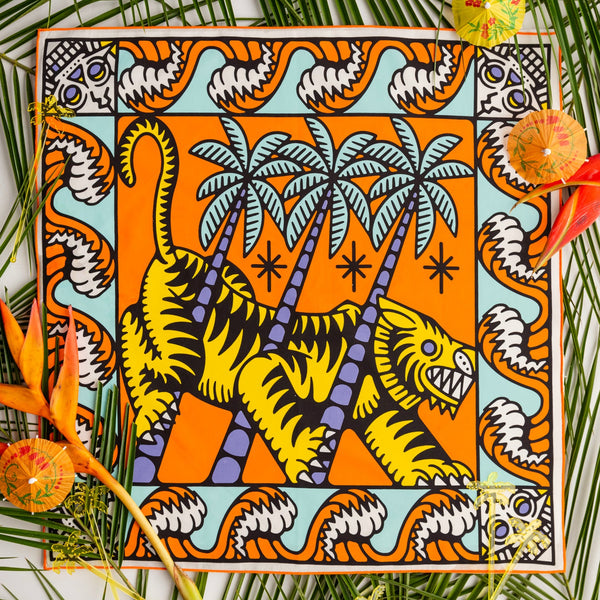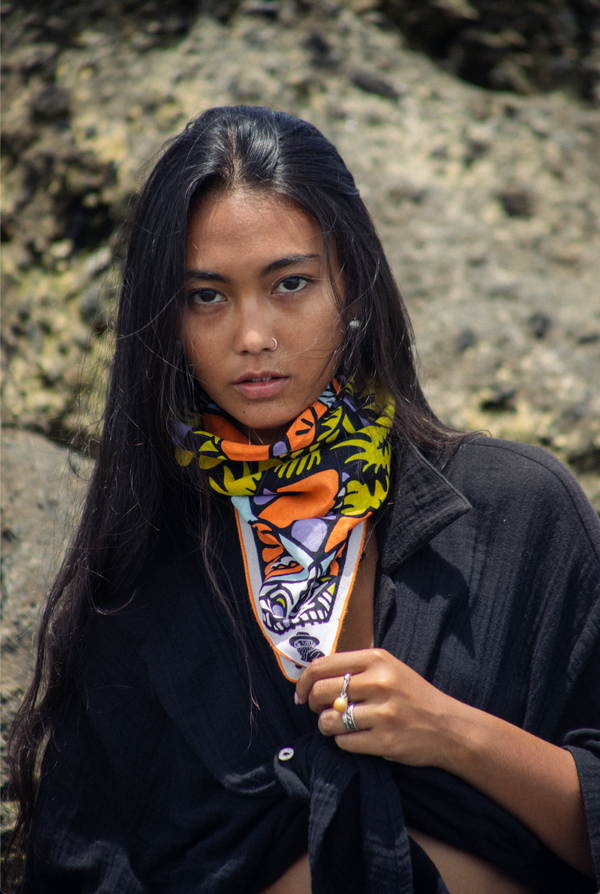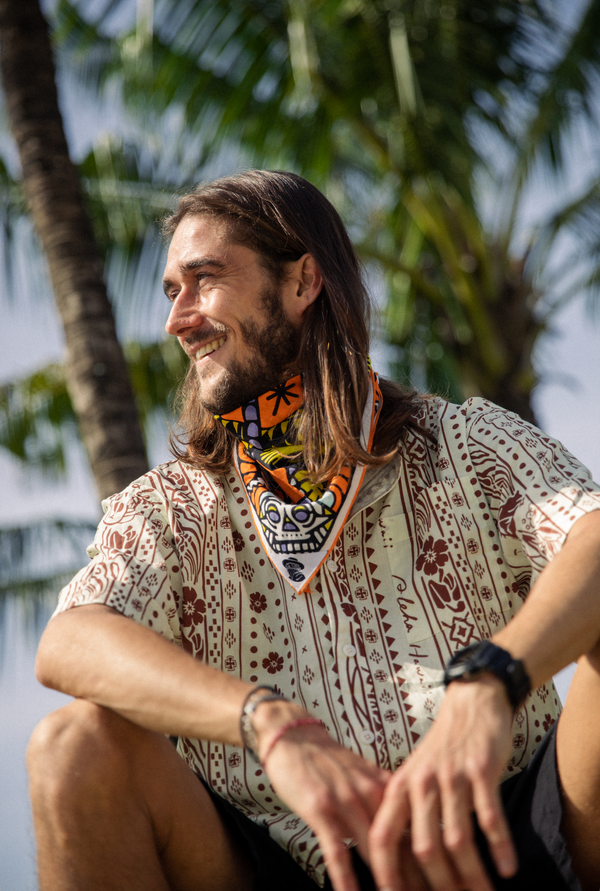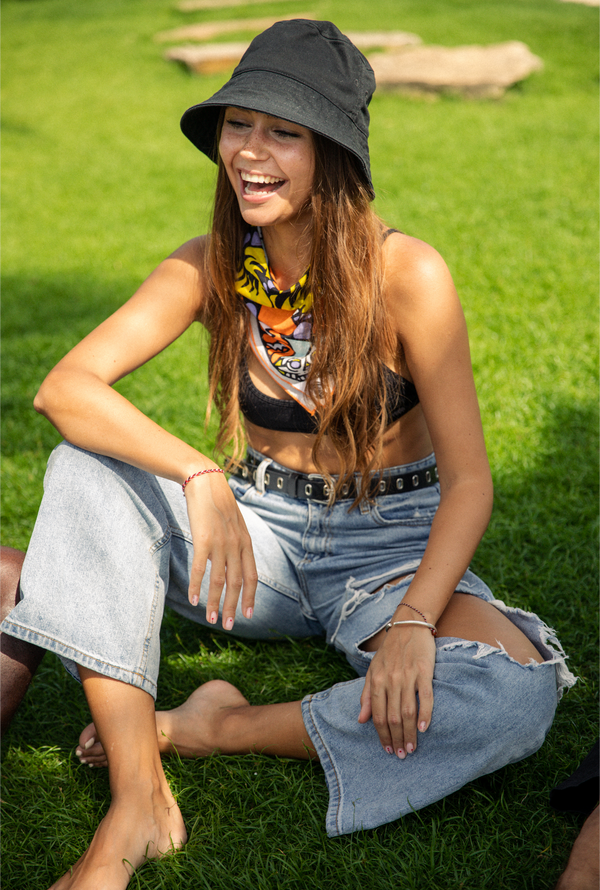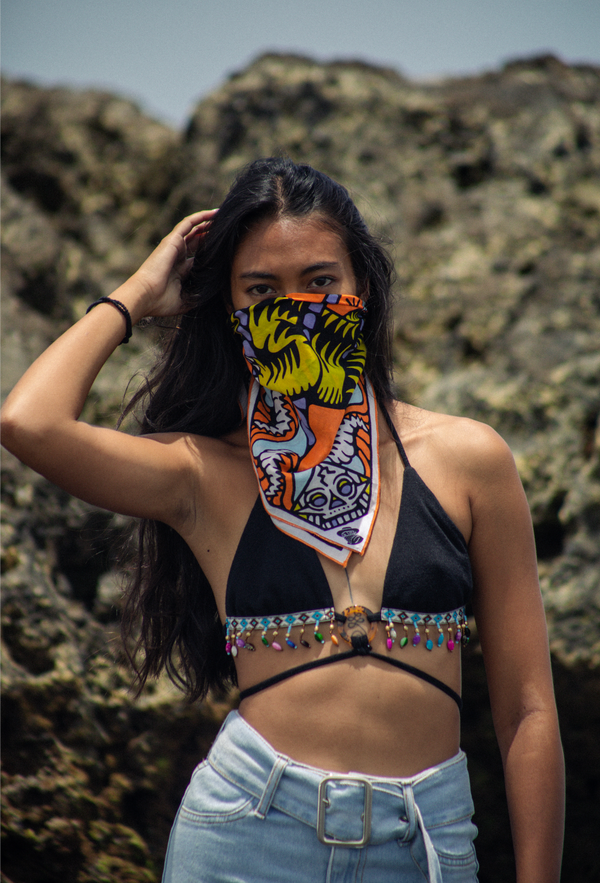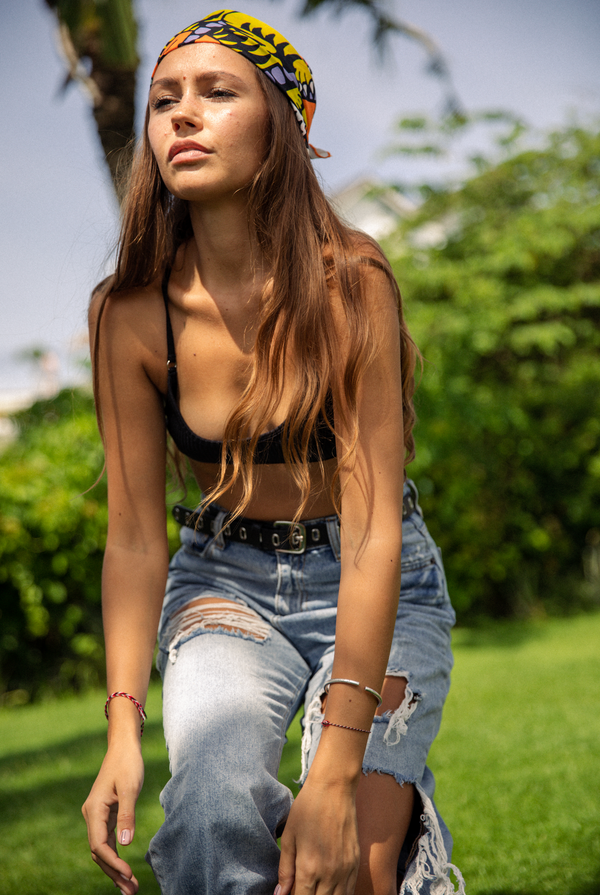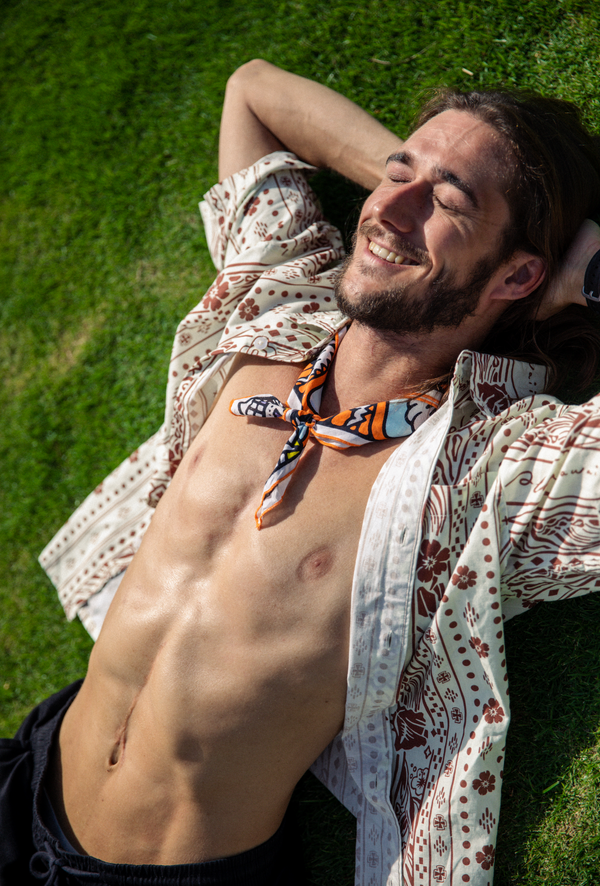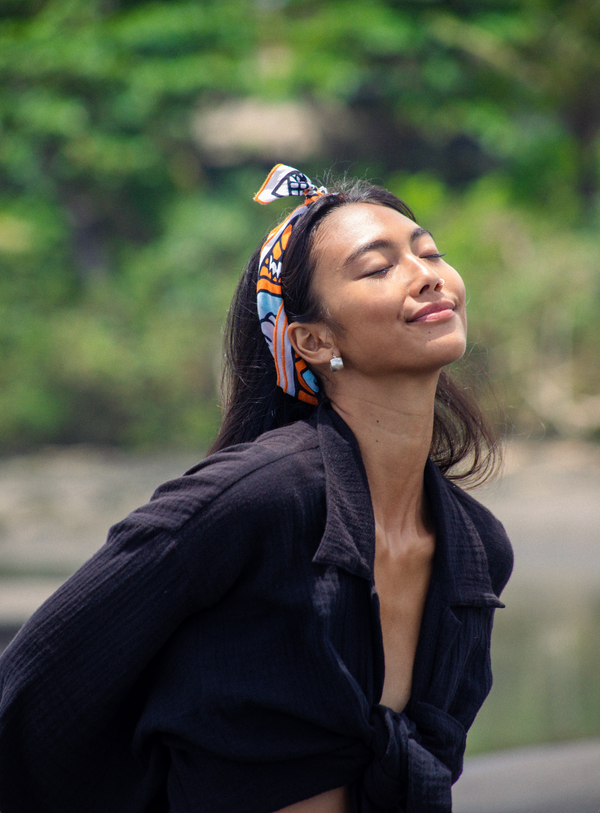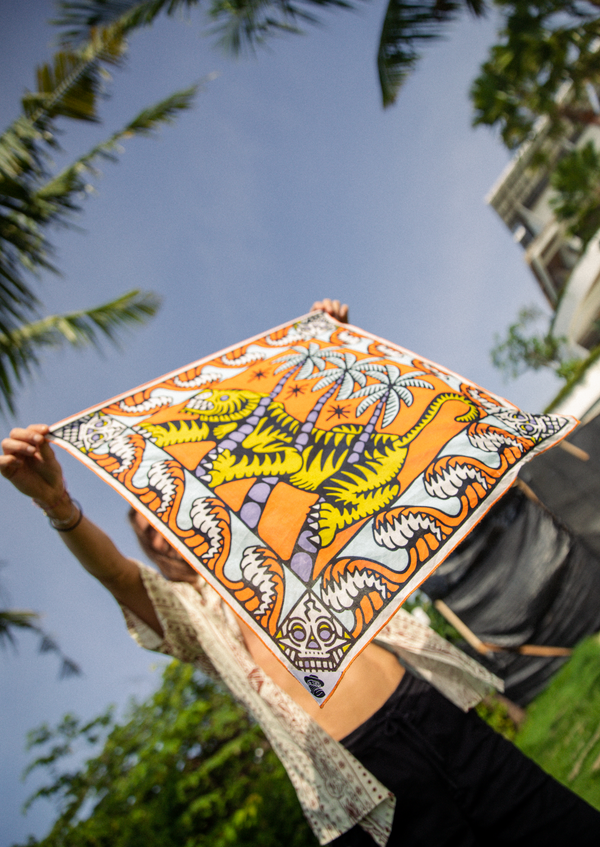 organic cotton

100% Organic Cotton, GOTS Certified and sustainably sourced in India from Chetna Organic, pre-washed for an extra soft feel

made by hand

Printed, Cut, Sewn, and Packaged by hand at a Fair Trade Certified facility in Kolkata, West Bengal, India. Please note that there may be slight sizing and color variations from product to product

21" x 21"

Standard 21 x 21 inch bandana. Machine wash cold with like colors, line or tumble dry, warm iron, do not bleach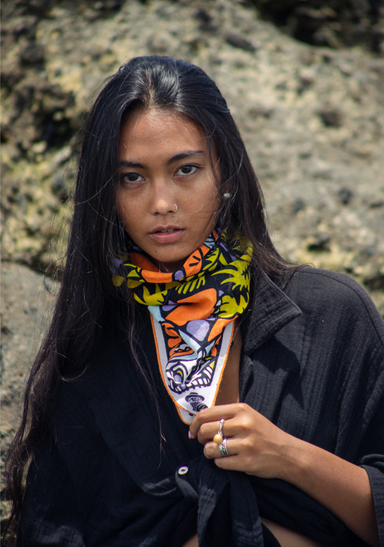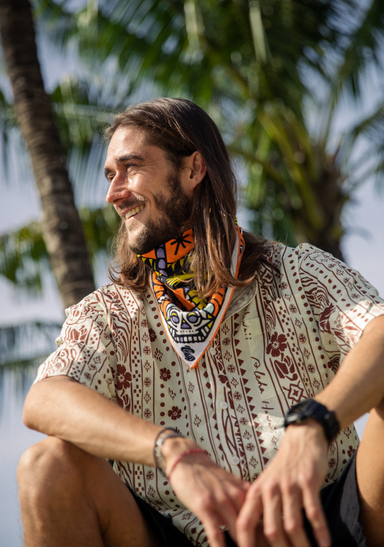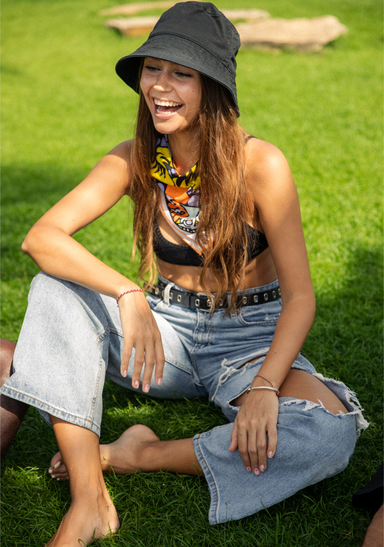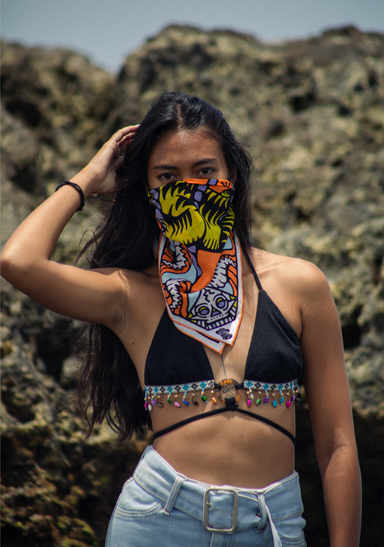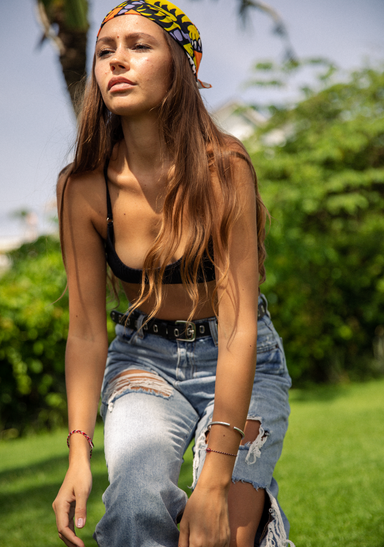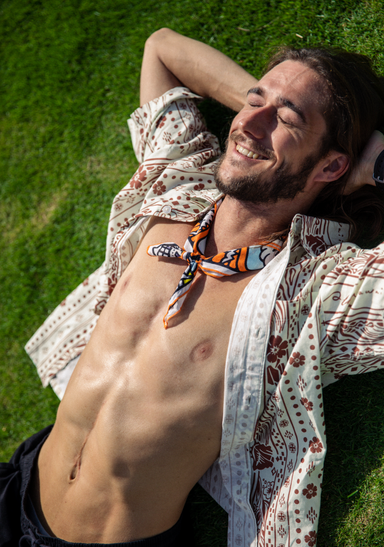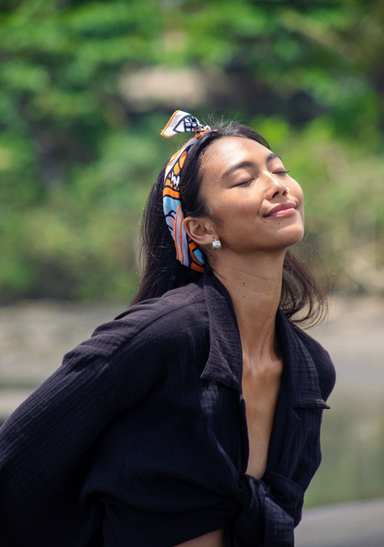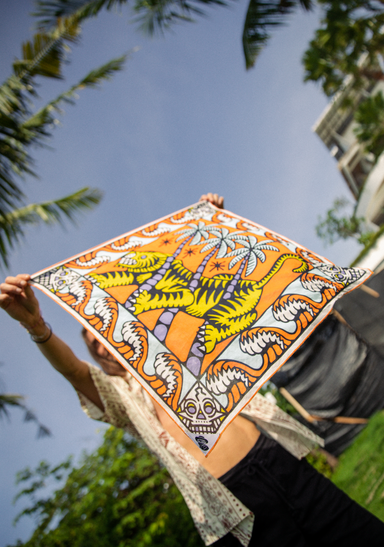 Santa Barbara, CA
D.J. Javier
www.bayansurf.club
Based in Santa Barbara and raised the first-generation child of Filipino immigrants, muralist, designer, and entrepreneur D.J. Javier is making his mark on the central California coast and beyond. His Filipino heritage not only influences, but also permeates the foundation of his work, contributing to his signature style. With artistic influences ranging from the tattoo icon Mr. Cartoon to the abstract shapes and colors of Cody Hudson, D.J.'s work evokes a sense of balance - of ancient and modern, life and death, order and chaos. It's no wonder that D.J.'s favorite activity is surfing, as it too requires a harmony of seemingly disparate elements to create a state of flow. To see D.J.'s work is to be, if just for a moment, transported to that place -- perched atop a perfect wave, at one with the universe. Above all, D.J. told us, "I hope my work and story serves as an inspiration to the younger generation, especially POC youth who many not see many people like themselves out there. There is space and opportunity for them out there to do really big and cool things, and hopefully even catching a glimpse of my work or story encourages them to keep chasing after they dreams."
Children's Creative Project
The Children's Creative Project (CCP) works with schools across Santa Barbara and San Luis Obispo counties to provide arts experiences for underserved children not normally exposed to the arts. CCP collaborates with these school districts, and brings students together with professional artists to provide pathways in art as a positive alternative to drugs, vandalism, and violence. CCP also works with schools to develop arts education programs, to provide workshops for educators, and to expand work opportunities for professional artists within school systems.

Since 1975, CCP has been a program of the Santa Barbara County Education Office, and now reaches over 50,000 children annually in 100 Santa Barbara and San Luis Obispo County Schools.

Giving back to CCP was, in D.J.'s words, a "no brainer," because "they have opened up alot of new opportunities and have supported the creativity of so many students across the city." BANDITS is proud to team up with D.J. to support this incredible organization.




ccp.sbceo.org/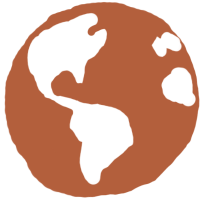 $200,000
RAISED FOR GLOBAL CHARITIES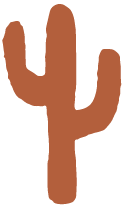 79
CHARITY ORGANIZATIONS SUPPORTED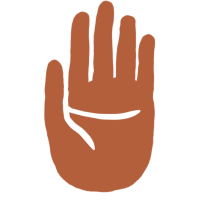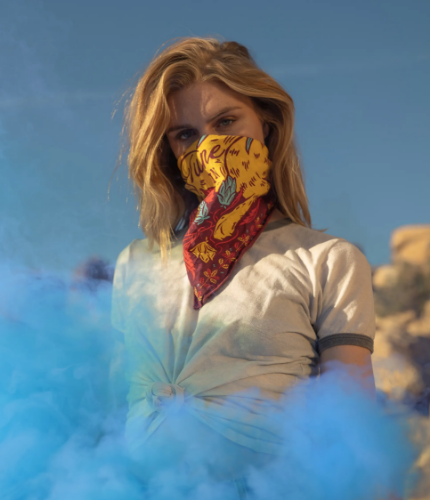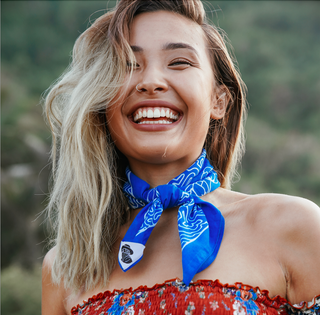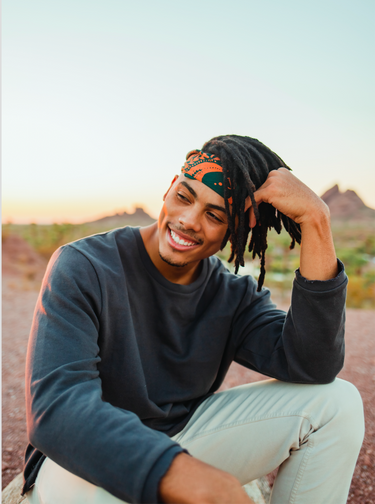 Style Ideas, Guides, and Inspiration